UNOIKI calendar 2010 - March
MRZ is a performance artist from Zurich, Switzerland, who brings back a lot of humour into electronic music.
"Wings" is a quite undescribable piece of music, so we don´t want to waste too many words about it: We just say "wobbly Kraut-hopedelica"!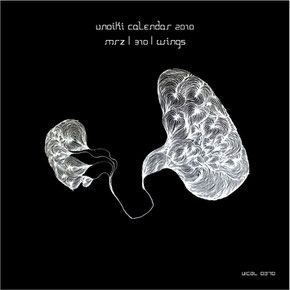 The Automatic Message
MRZ!! I love this one.
lejockey
I have been listening to this non stop since downloading it from your site a few hours ago. Its utterly brilliant.
The Marx Trukker
dope dope dope dope dope :)
Olle2000
the song makes me crazy! in body and soul! A lot of energy trapped behind bars wanting to get out. this is what I crave.
booPhases
dope groove
Trigerfinger
I love all this movement !!
Storlon
How to start march with a smile in your face !
TinMan
ABSOLUTELY WONDERFUL!!! 8-) Excellent sounds and mood created. Very appreciative of the beats, please keep them coming! J.
0310 | Wings
by
MRZ
is licensed under a
Creative Commons Attribution-NonCommercial-NoDerivs 3.0 Unported Lizenz
.
Artwork 0310 | Wings
by
Jonathan Mangelinckx
is licensed under a
Creative Commons Attribution-Non-Commercial-No Derivative Works 3.0 Unported License
.