limited CD edition of 100 copies!
handmade innovative packaging
IDM, Minimal, Glitch, Ambient, Clicks, Dubstep, Techno, Deep, Experimental, Electronica ...
Tracklisting
choenyi - First Visit (Dupois remix)
Humeka - Frog Legs (As We Said remix)
Andrés Marcos - Lucida Console (Trigerfinger remix)
Ten and Tracer - Doving Fluttercotes (Plaster remix)
Sul.a - Ap_xrst_2 (Cleymoore remix)
J-Lab - Doubt (The Marx Trukkers Mitten Im Reinen Mischung)
MRZ - I Don´t Believe (The Automatic Message remix)
Keinzweiter - Bitfunk (Urbanoise remix)
Dr.Nojoke - Indoor-Cocooning (Interseason mix by Strukturator)
Offtopic meets Sven Laux - 8 + t (Tanaka Hideyuki remix)
Storlon - Jaze Baqti (Berk Offset's Auclickremix)
For REDEFINITION twenty-two carefully selected producers from diverse fields from all over the world had been asked for participation: new upcoming talents as well as established artists - all of them standing for a highly interesting, exciting and unique style somewhere between dubstep, dubtechno, drone, glitch, sound-art, minimal, techno, house, IDM, Electronica...
UNOIKI designer Jonathan Mangelinckx created the packaging and artwork: a book-sized, handmade fold-up cover in a slip-case. Unusual in design and functionality it is more an art-piece than just a CD-case!
Artist: Various Artists
Title: Redefinition 2 - evaluated
Release date: 07-11-2011
Cat.#: UI004
Format: ltd CD-R (100) / mp3, ogg, flac
Distribution: unoiki.bandcamp.com
Artwork: Jonathan Mangelinckx
Mastering: Tobias Lorsbach
Text:  Marianne Klausen - Language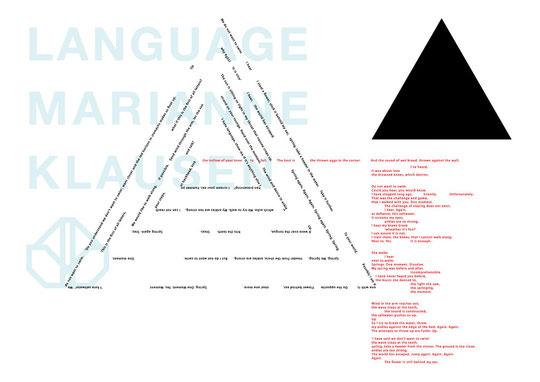 We do not want to swim
I hear
I steal a flower, stick it behind my ear,
spring, take a header in the water.
Take it further. To your world.
Possibly I am done with it.
Do the opposite
Flower behind ear,
steal one more.
Spring. One Moment. Yes. Moment
'I hate saltwater'
We do not want to swim.
'Do you understand we don't want to swim',
want closer and the red horizon in stomachs makes us float up.
Up
why fight?
'it is nice' I hear,
the world has escaped.
Spring again. Again. Again. Spring again. Spring. Spring.
Spring. We Spring.
Header from the shore,
ankles are strong.
But I do not want to swim. One moment.
This is the first of all letters,
what if this is the first of all letters?
The sun is sitting so tight in my throat that nausea crops up.
Up.
A wave over the tongue,
hits the teeth.
Stays.
Spring again. Stay.
We would like to walk along,
if possible.
Send wind through the arm, let the sun
strand on your tounge. Hand over the moment.
The wind and desire in ankles,
which ache.
We try to walk. My ankles are too strong,
I can not reach your steps,
and talk?
'I hate language, show me if it's anything else than preserving!'
I scream your ear, hammer your backhead, kick
the hollow of your knee to fall.
The best is the thrown eggs in the corner.
And the sound of wet bread, thrown against the wall,
I've heard,
it was about love
the drowned knees, which desires.
Do not want to swim.
Could you hear, you would know,
I have stopped long ago. Silently. Unfortunately.
That was the challange and game,
that I walked with you. One moment.
The challenge of staying does not exist,
I hear. Again,
as defiance; this saltwater.
It screams my eyes,
ankles are so strong,
I hear my knees break
'wheather it's fun?'
I can assure it is not.
I train them, the knees, that I cannot walk along.
Next to. Yes. It is enough.
She walks
I hear
next to, walks
Springs. One moment. Dissolve.
My spring was before and after.
Incomprehensible.
I have never heard you before,
the music she danced to,
the light she saw,
the springing,
the moment.
Wind in the arm reaches out,
the wave stops at the teeth,
the sound is constructed,
the saltwater pushes us up.
Up
So I try to break the water, throw
my ankles against the edge of the bed. Again. Again.
The attempts to throw up are futile. Up.
'I have said we don't want to swim'
the wave stops at the teeth,
spring, take a header from the stones. The ground is too close,
ankles are too strong.
The world has escaped. Jump again. Again. Again.
Again.
The flower is still behind my ear.