UNOIKI calendar 2010
The UNOIKI calendar 2010 is a project lasting one year.
Each month UNOIKI released one exclusive track from one of the music producers including an exclusive artwork and a video trailer from Jonathan Mangelinckx.
It was available as a free download for only one week each via our homepage.
Part of the project was also an exhibition about it at the end of the year.
Watch the twelve video trailers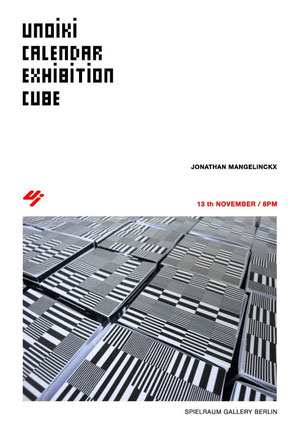 UNOIKI Calendar Exhibition - JONATHAN MANGELINKX

13.Nov. - 4.Dec. 2010
Reichenberger Strasse 28, Berlin-Kreuzberg
UNOIKI is proud to present an exhibition by our graphic designer Jonathan Mangelinckx.
The exhibition shows all artworks from the Calendar project. The characters of UNOKI are hidden in the artworks. They are part of a sequence generated with the same process.
J. Mangelinckx presents also the NOISE CUBE, an installation of 125 unique cubes he created especially for this exhibition. Each of the cubes represents a different frequency of the spectrum of radio interference – how they combine like instruments in an orchestra, and the different movements they play within a musical piece. Their interaction creates an aural perception through the visual sense.
UNOIKI exhibition catalogue JONATHAN MANGELINCKX
Calendar_exhibition_catalogue.pdf
Adobe Acrobat Document
812.1 KB